Established in 1889, Dong Xuan Market is housed within a four-storey Soviet-style building on the northern edge of Hanoi Old Quarter. It's also known as Hanoi's largest indoor market, offering a wide range of goods such as fresh produce, souvenirs, accessories and clothing, as well as electronic and household appliances.
Similar to most markets in Southeast Asia, Dong Xuan Market has a bustling wet market section on the ground floor, where locals shop for seafood, meat, and vegetables while the back section sells an array of pets (cats, dogs, and fish) and fresh flowers from all across Vietnam. If you're looking to shop for souvenirs, head to the upper levels, where you can find numerous stalls selling tee shirts, fabrics, school uniforms, handbags, handicrafts, all of which are sold at wholesale prices.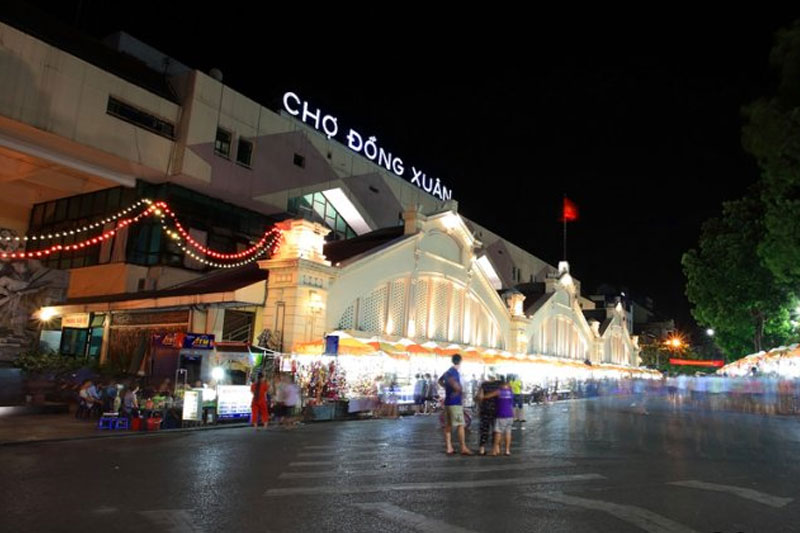 There's also a massive dining area within Dong Xuan Market, with food vendors selling Vietnamese coffee and exotic local dishes for as low as VND 15,000. Highly recommended dishes include tiet canh (duck blood soup), fried frog, bun cha (marinated grilled pork served with noodles), and banh cuon (rolled cake).
Surrounding Dong Xuan Market are many more shops where you can purchase traditional Dong Ho drawings, Bat Trang ceramics, Binh Da embroideries and laces, and sand paintings. Within walking distance of Hoan Kiem Lake, Dong Xuan Market is a must-visit if you're looking to experience the local lifestyle (you might even end up leaving with a pair of cheap sunglasses and a Vietnamese conical hat).
Dong Xuan Market
Opening Hours:
Daily 06:00 - 19:00
Address
: Dong Xuan Street, Hoan Kiem District, Hanoi